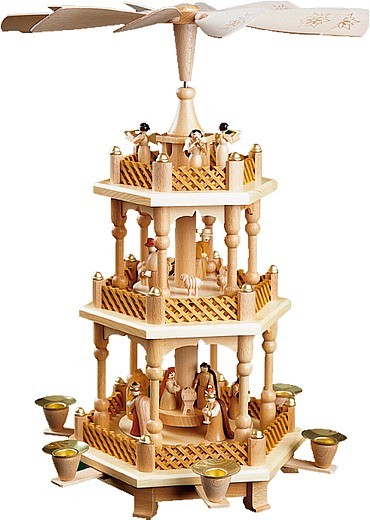 2-storeyed Christmas pyramid, Nativity - natural coloured
product no.: RGL16721
This 15,75 high pyramids shows on the two floors the scene of Nativity. You need 6 wax candles to operate the pyramid.
immediately deliverable

Auf Lager! in 3 bis 5 Werktagen bei Ihnen.
We currently have 2 on stock of this article..If you´d like to order more, delivery time is going to be extended by 15 weekdays
price:
207,20 €
best-price-guarentee: You have seen it cheaper somewhere else ? Then
write us
!
suitable to this article:

pyramid candles - white
product no.: RBA3250
- content: 50 candles - lenght: app 2.91 inches - diameter: app 0.55 inches
these articles could interest you, too:

Advent candles - white, 0.79 inches (4-18)
product no.: RBA3259
- for adventcandlestick - content: 4 candles - diameter: app 0.79 inches - height: app 4.13 inches

Advent candles - golden yellow, 0.79 inches (4-18)
product no.: RBA3262
- for adventcandlestick - content: 4 candles - diameter: app 0.79 inches - height: app 4.13 inches

incense smoker, edge stool birdlover
product no.: KWO21570
height: app. 6.69 inches