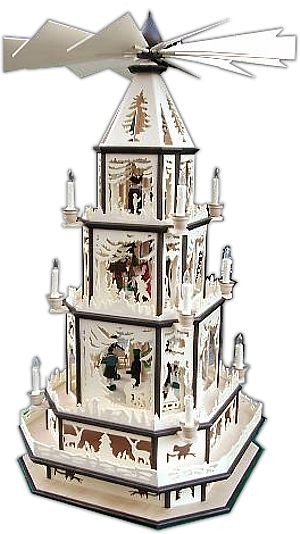 3-storeyed Christmas pyramid, doubly
product no.: TRM0111-1
This three storey pyramid is electrically illumintated by 12 candles and the drive motor is located in the socket.
The fretwork in front of each floor has a different theme. The lowest floor shows a lumberjack, the second one shows a woodsman and the highest floor a mushroom picker.
Through an additional lighting between the single motives on each floor it looks like 3D.
On the first rotating floor you can see miners, on the next one are figures in traditional costumes shown and on the third floor are three carolers.

The colours shown on the photo is not 100% conforming with the natural look of the wood.
Attention: very long delivery time: in 344 days ready for despatch, if you order now

price:
1199,00 €
best-price-guarentee: You have seen it cheaper somewhere else ? Then
write us
!