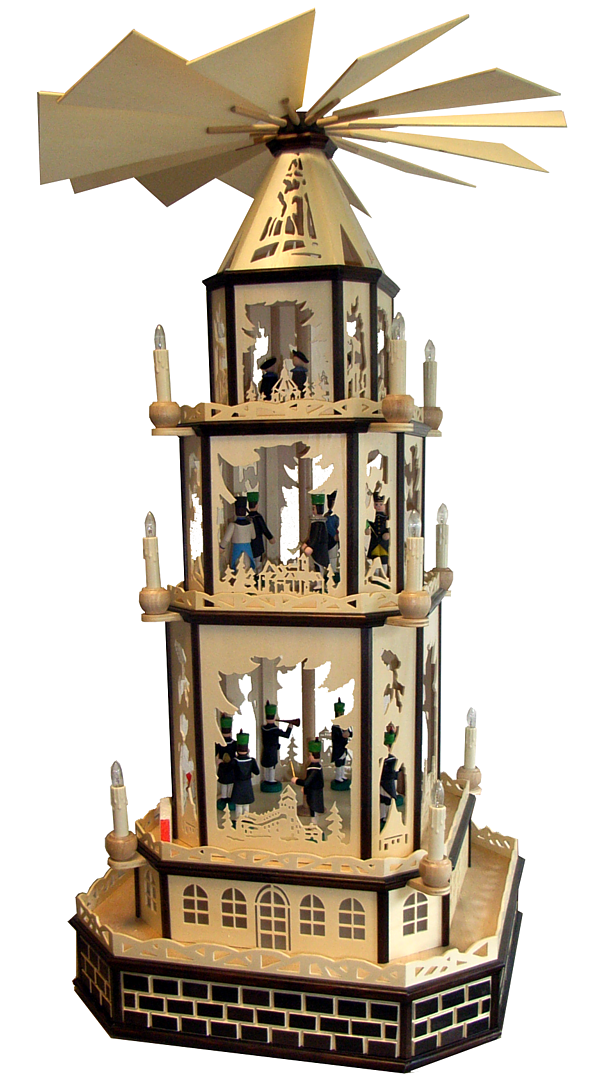 Christmas pyramid, "castles and palaces"
product no.: TRM0119
height: app 37.40 inches
wings wheel diameter: app 23.61 inches
turned figures
material pyramid: poplar plywood
delivery time around 2-3 weeks
The colours shown on the photo is not 100% conforming with the natural look of the wood.
The Christmas pyramid has castles and palaces as its theme. The base is held in a brick look. On it sits a substructure in which windows and doors are sawed. Every platform has green trees. The first level shows 7 making music miners. In the second stage, 5 miners from the miners' elevator can be seen in their traditional costumes. Youth choir standing on the third platform. All three levels are surrounded by fretwork. These show castles and palaces from the Ore Mountain, such as the hunting lodge of Augustusburg, the Frohnauer Hammer, the Seiffen church and the Fichtelberg house.
The pyramid is powered by a motor, which is located in the base. Replacement candles 23V and replacement candles 55V are also available in our onlineshop.
immediately deliverable
We currently have 1 on stock of this article..If you´d like to order more, delivery time is going to be extended by 40 weekdays

price:
1080,00 €
best-price-guarentee: You have seen it cheaper somewhere else ? Then
write us
!