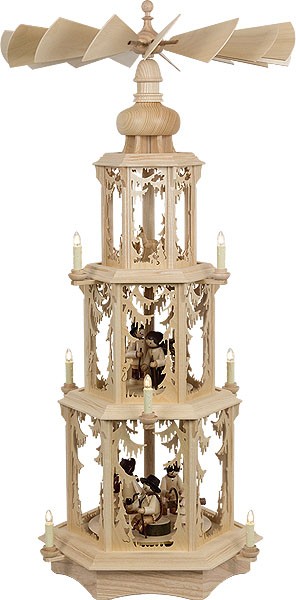 forest pyramid, with figures, electrical, 3-storeyed
product no.: SEI505/1
This pyramid has the forest theme. Branches hang down from the columns and give the impression that the figures are in the forest. On the different levels you can see deer, foresters, woodcutters and wood collectors.
The pyramid is powered by a motor, which is located in the base. Replacement candles are also available in our onlineshop.
height: app 41.34 inches
shaped columns
13 pcs. group of figures, lathed, coloured
material pyramid: ash wood
We currently have 1 on stock of this article..If you´d like to order more, delivery time is going to be extended by 14 weekdays

price:
991,90 €
best-price-guarentee: You have seen it cheaper somewhere else ? Then
write us
!