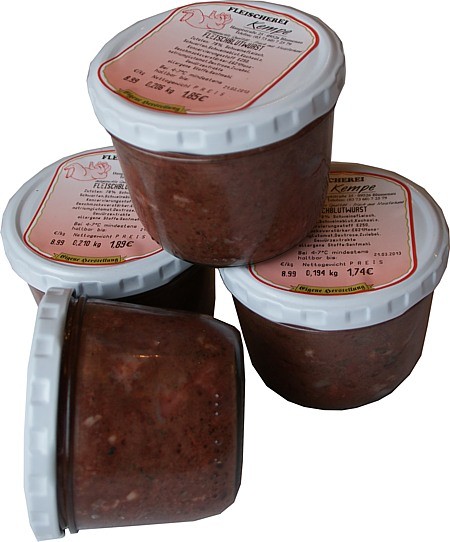 homemade blood sausage in a glass
product no.: SKE1018
Ingredients: 79% of pork rinds, Pig's blood, iodine. Table salt, Preservative E 250 Sodium nitrite, flavor enhancer E621 Monosodium glutamate, dextrose, onion, spices
in 6 days ready for despatch, if you order now


Die Produktion hat uns diesen voraussichtlichen Termin übermittelt. Dieser ist aber nicht garantiert. Den Lieferstatus sehen Sie nach Ihrer Bestellung im Kunden-Login.
basic price: 17.50 €/kg
price:
3,50 €
these articles could interest you, too:

Erzgebirge knacker sausage
product no.: SKE1014
piece approx. 5x120g Please choose the number of pieces from the select field!

Original Erzgebirge Christmas sausage (5 pieces)

smoked ham of pork